What is a coarse water filter for home? This is a small-sized flask made of brass, which has two pipes for connection — input and output. Inside such a product there is an exit to the sump with a stainless steel mesh filter placed in it. The diameter of the mesh cells can vary from 100 to 1000 microns, which allows the retention of impurity particles of relatively small sizes.
Scope of application of coarse filters
Water has various impurities in its composition. Some of them do not dissolve and can disable household appliances. Therefore, coarse water filters are especially indispensable for a country house, the water supply of which is carried out from a well. Such products trap dirt, sand and clay particles, thereby preventing damage or complete failure of ball valves, fittings mixers and other equipment.
It is also recommended to install a coarse water filter for the apartment. It will help prevent the ingress of lime particles, rust and other foreign elements that are present in water supply systems, plumbing products and household appliances.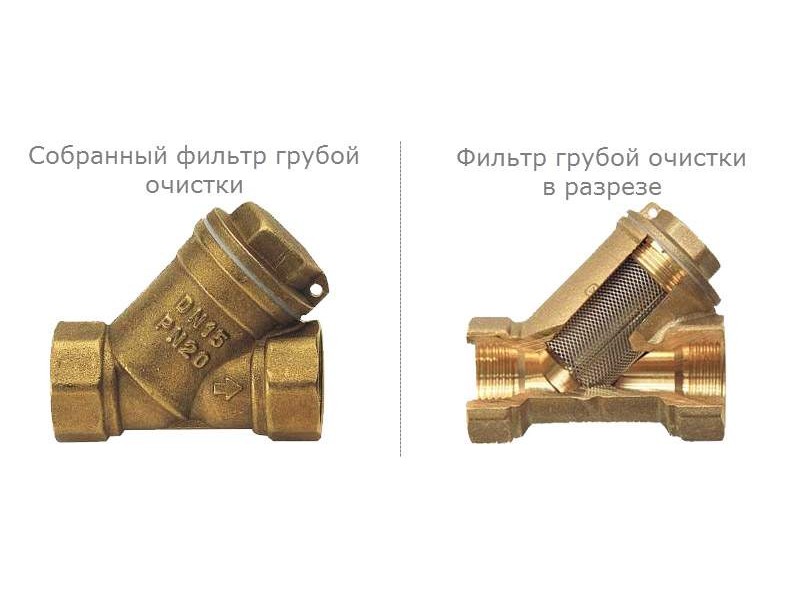 What tasks do coarse filters solve?
Coarse water filters for a private house or apartment solve the following tasks:
When installed in a water supply system:
cleaning of industrial water from dirt, rust, sand and other organic and inorganic impurities;
prolongs the life of expensive household equipment, including fine water filters.
When installed in heating systems:
prevents the formation of plaque on the walls of heat exchanger pipes;
prevents abrasive particles from entering the circulation pumps;
protects valves, radiator valves, ball valves and other system elements from damage or failure as a result of foreign particles entering their structure.
Thus, coarse water filters for an apartment or a private house are indispensable devices that will help extend the life of shut-off valves and household appliances.
Advantages of buying coarse filters in LLC "SHLYAH"
LLC "SHLYAH" offers to buy a coarse water filter for an apartment or a private household at manufacturer's prices. Among the advantages of cooperation with our company, we note the following points:
our own production facilities, which allows us to guarantee high quality products and competitive prices;
modern equipment;
highly qualified staff;
a well-developed logistics system that allows us to quickly organize the shipment of goods to any point in Ukraine;
providing a guarantee for all types of products.
To order coarse water filters or to get additional information, contact our manager in any way convenient for you. Our specialist will answer all your questions, promptly place an order and arrange its shipment.
LLC "SHLYAH— is high quality at an affordable price.