Unfortunately, urban filtration stations are not able to provide high-quality water purification from impurities, and the deplorable condition of pipelines further aggravates the situation. As a result, various impurities in the form of sand, dirt, rust or lime get into the impeller of the meter, which quickly disables it. A coarse filter for the water meter will help prevent damage to metering devices by solid and fibrous inclusions, as well as ensure their correct operation throughout the entire service life.
Classification of coarse water filters in front of the meter
For local water supply systems in apartments or private houses, several configurations of such products have been developed. Thus, the coarse water filters in front of the meter differ in the following characteristics:
the location of the sump;
connection type;
filter material;
diameter of the inlet and outlet pipe;
the service method.
The most common type of product is a part in which the sump with a filter is located at an angle relative to the flow. Such a coarse strainer is considered universal and can be mounted on both horizontal and vertical sections of the water supply system. If the product has a perpendicular sump, then its installation is possible only on horizontally located sections of the pipeline.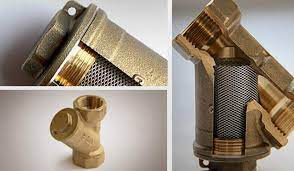 How to choose a coarse filter before the counter?
Oblique coarse filters in front of the meter are in particular demand among consumers due to their versatility and ease of installation. Such products are made of brass, resistant to corrosion, temperature changes and mechanical damage. Adds popularity to such details — their low cost.
It is necessary to choose a strainer for coarse water based on the following criteria:
pressure in the water main. If its indicators are high, it is recommended to install an enhanced version of the filter;
diameter of the inlet pipe of the metering device;
possible size of dirt particles. The diameter of the holes in the filter can vary from 100 to 1000 microns;
the need for sealing. Filter models for sealing have a special eyelet on the body.
Taking into account all these points, you can easily pick up the desired version of the product.
Where to buy a coarse water filter?
You can always buy a coarse filter of cold or hot water ½,¾,1 in LLC "SHLYAH". We produce such products ourselves, therefore we guarantee high quality, reliability and durability of such products.
If you still have questions or you are having difficulty choosing a coarse filter for a water meter, contact our specialist in any way convenient for you. Our consultant will provide all the information you need and help you choose the product depending on the future conditions of its operation.