For the manufacture of serial or small-scale parts with a high accuracy class, CNC milling operations are used. This is due to the fact that the production of a small number of products that require high-precision processing is associated with high labor costs. And this, in turn, negatively affects the final cost of the part and the profitability of its manufacture.
Milling operations on CNC machines: scope of application
Milling operations on CNC machines can be relevant both in industry and in everyday life. In particular, such operations are resorted to in the following cases:
the breakdown of a part or the appearance of cracks in it;
the necessary product has already been discontinued or its delivery takes a long time;
when upgrading equipment by using a part made of a stronger material than the original;
the need to obtain a high-class accuracy of the treated surface, up to the mirror;
manufacturing of a part in a single copy according to an individual project.
If you are faced with one of the above situations, CNC turning and milling is exactly what you need.
What can be made on CNC milling machines?
With the help of CNC metal milling, it is possible to produce various types of standard and shaped products, namely:
plates and sprockets;
supports and housings for them;
covers and molds;
flanges and stops;
retainers and much more.
The specialists of LLC "SHLYAH" can develop and write a program for the manufacture of parts of any level of complexity, which will allow you to get the necessary product in record time.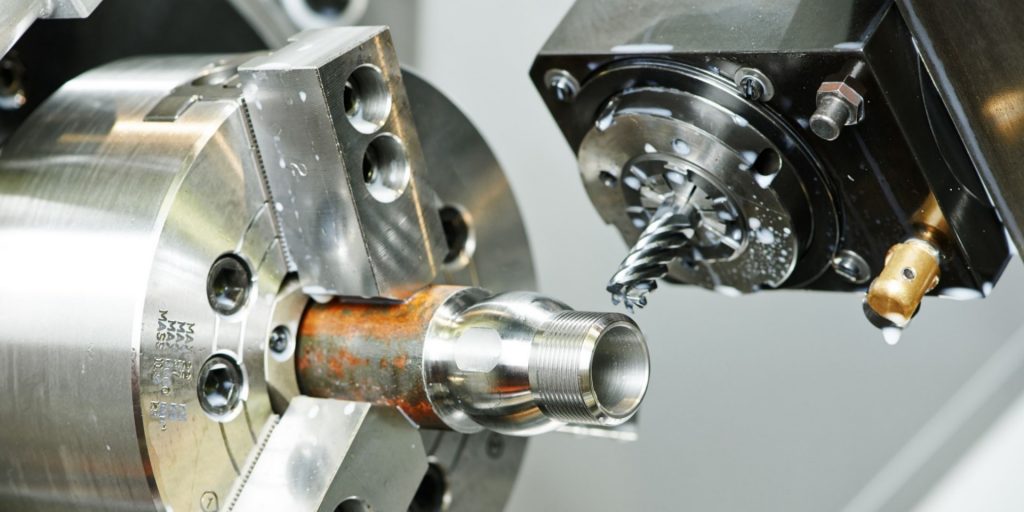 Advantages of CNC metal milling
CNC metal milling has the following advantages compared to machining parts on conventional machines:
higher processing accuracy, which cannot be obtained on manually operated equipment due to the influence of the human factor;
high productivity due to the automation of the production process and the reduction of operator functions to a minimum;
constant control by automation over the correctness of technological operations;
low, in comparison with manufacturing on equipment with manual control, the cost of production of the part.
That is why CNC milling is the most progressive way of producing high-precision parts.
Turning and milling work on metal with CNC at LLC "SHLYAH"
Specialists of LLC "SHLYAH" will qualitatively perform turning and milling work on metal with CNC of any level of complexity. Among the advantages of contacting us, we note the following points:
modern high-precision equipment and cutting tools from leading world manufacturers;
high speed of manufacturing parts according to standard and individual projects;
the competence and professionalism of the staff, which allows us to guarantee the high quality of finished products;
affordable cost of services.
To order CNC milling operations, contact our manager in any way convenient for you. Our specialist will provide all the information you are interested in, promptly issue an application and submit it to work.
LLC "SHLYAH" — high quality of manufactured parts and affordable prices.